Recombinant Proteins
"I have been using FiberCell Systems cartridges for the production of recombinant proteins in CHO cells for five years. I routinely produce a half-gram of protein in two months in a volume of less than five liters. This type of production would not be possible using conventional methods. FiberCell Systems hollow fiber bioreactors have made an invaluable contribution to my research."
-Dr. James Arthos, Bethesda , Md.
The production of recombinant proteins and conditioned medium from mammalian cells can be such a cumbersome process that for many laboratories the use of mammalian expression systems is to be avoided. Large numbers of plates, flasks or roller bottles are required or the use of a stirred tank vessel is mandated. The cell culture conditions provided by these methods are inherently non-physiologic. Hollow fiber bioreactors provide a tremendous amount of surface area for cell attachment and the high cell density permits the use of our CDM-HD serum replacement and can also result in improved protein folding and more uniform post-translation modifications. Protein concentrations are in the range of 100 ug to 300 ug/mL/day and the production of 10's of mg on up to gram quantities of proteins is possible. The protein of interest becomes a significant component of the harvested supernatant and the small volumes facilitate purifications.
Secreted proteins can be 100 times more concentrated vs. tissue culture supernatant.
Reduced serum requirements facilitates purification
Small harvest volume for easy handling
No splitting of cells required, cartridge maintenance just 15 minutes a day
Cultures can be maintained for several months of production
Optimal cell culture conditions can result in improved protein assembly and folding
Demonstration of Adaptation to Serum-free Medium
SDS-Page gel of successive harvests from the ECS of a recombinant protein secreted by a 293 cell line. Initial medium is DMEM with 10% FBS (Monday). Medium is changed from DMEM-FBS to Hyclone serum free medium for 293 cells. Note the diminution of serum proteins, especially BSA in the harvest from the ECS while the protein of interest remains constant or increases as the adaptation continues. Protein of interest is higher in concentration on Mondays as it has accumulated over the weekend to a higher level.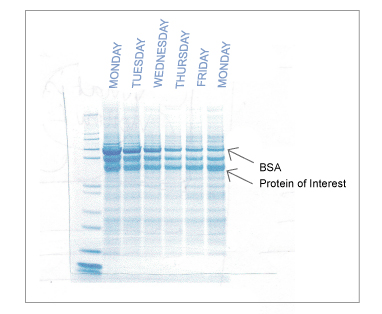 Production of a Hexeramized Recombinant Protein from CHO Cells in the C2018 Cartridge
Production of a hexeramized IgG consisting of 6 IgG1 subunits held together by 3 IgA tails in a CHO cell line. When grown in flask culture (top trace) about 40% of the protein is expressed as an incompletely folded monomeric sub-unit. When the same cells are culture in the FiberCell Systems hollow fiber bioreactor module, more than 90% of the protein is expressed as a properly folded hexamer. This is due to the superior cell culture conditions inside the hollow fiber cartridge. Mediums used was DMEM with 2% FBS. 478 mg of purified protein was produced in FiberCell Systems catalog number C2018 in a period of 8 weeks in a collected volume of less than 5 liters.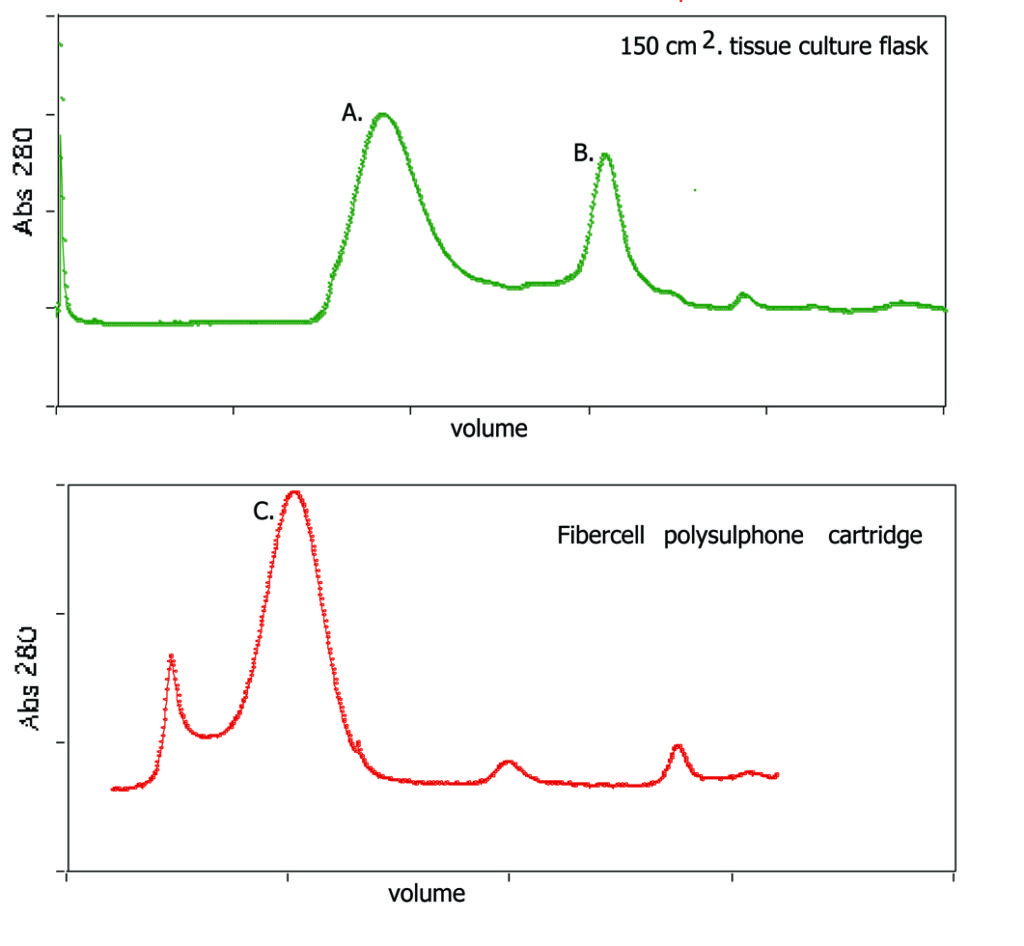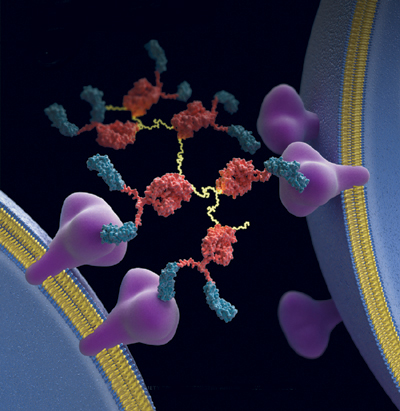 Production of a Recombinant IgG in 293 Cells Using FiberCell Systems CDM-HD (Serum-Free Medium)
The medium 20 kd MWCO FiberCell Systems cartridge (catalog number C2011) was used to produce 276 mg of protein in a total volume of 900 mL in 2 months using serum-free medium. The cartridge was run over the weekends with a one liter bottle of serum-free medium. This accounts for the extremely high levels of lactate and protein concentration seen on peak days. At its highest point lactate was 3.8 mg/mL, glucose less than 100 mg/mL and pH below 5.9. Highest protein concentration was 900 µg/mL. Although a certain amount of cell viability was lost the replacement of the medium with a fresh bottle resulted in continued cell growth and protein production. When grown in the FiberCell Systems hollow fiber bioreactor cells, most cell types demonstrate high resistance to lactate resulting in easier management of cell culture medium changes.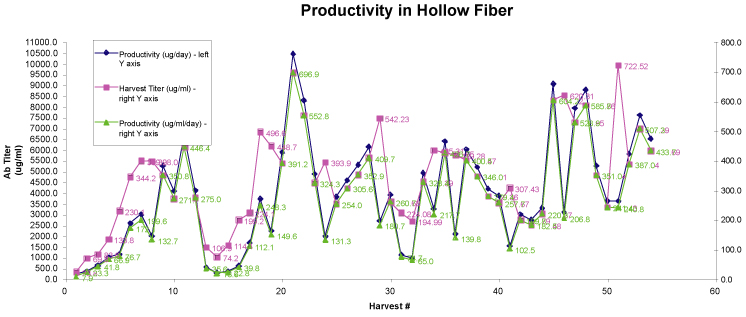 BHK Cells Cultured with FiberCell Systems CDM-HD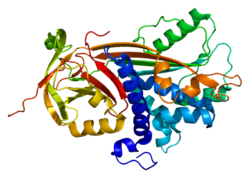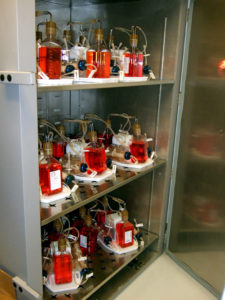 In 1986 human tissue plasminogen activator (tPA, Activase; Genentech, S. San Francisco, CA, USA) became the first therapeutic protein from recombinant mammalian cells to obtain market approval. Today about 60–70% of all recombinant protein pharmaceuticals are produced in mammalian cells. This is due to the complex nature of required post-translation modifications for these proteins to ensure proper solubility and bioactivity. Like tPA, many of these proteins are expressed in immortalized Chinese hamster ovary (CHO) cells, but other cell lines, such as those derived from mouse myeloma (NS0), baby hamster kidney (BHK), human embryo kidney (HEK-293) and human retinal cells have gained regulatory approval for recombinant protein production.
BHK cells had initial popularity as serum free mediums were developed early on to support their culture in suspension for scale-up. However, there were issues with productivity under serum free conditions in some cases. (1) FiberCell Laboratories cultured BHK cells expressing PEDF (pigment epithelium-derived factor, MW approximately 50KD) using DMEM 10% FBS followed by a switch to DMEM 10% CDM-HD on day 17 with no adaptation. Data demonstrates stable glucose uptake rate and no loss of PEDF production when using CDM-HD.  BHK cells can be cultured in hollow fiber bioreactors using protein free medium with no loss of production.
| | |
| --- | --- |
| Cartridge used | Cat #C2008 5 KD MWCO PS cartridge |
| Cells inoculated | 3 X 108 cells |
| Medium Consumed | 14 L |
| Total protein produced | 99.8 mg |
| Total volume of harvest | 164 mL |
| Average concentration | 0.6 mg/mL |
Culture was terminated at 22 days as the target of 100 mg of protein produced was reached.
Adaptation of BHK cells producing an recombinant protein to serum-free media and protein-free medium. Carrondo et. al. Cytotechnology 26:59-64, 1998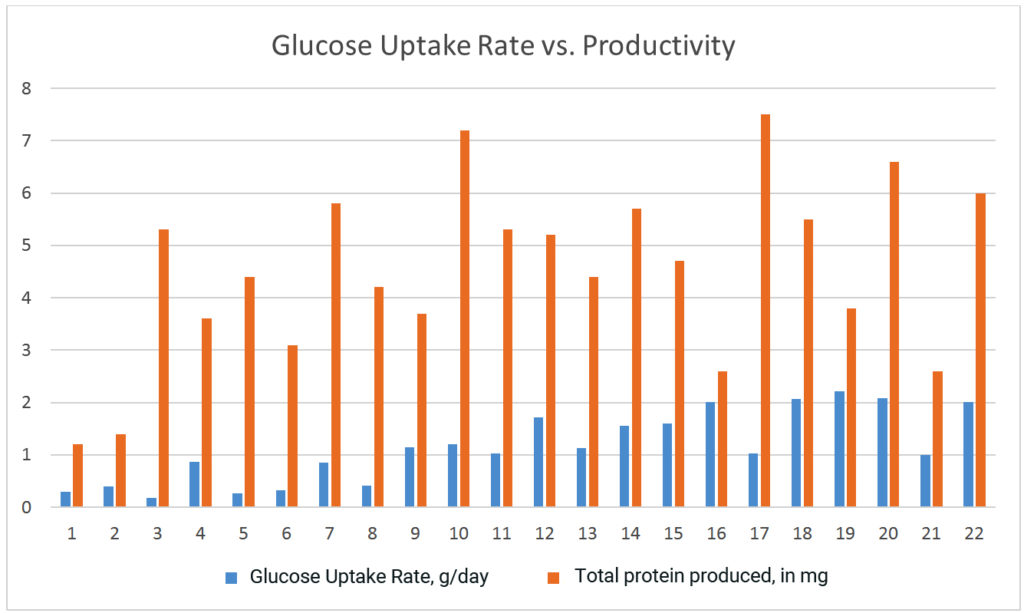 Suggested Ordering for Recombinant Protein Cell Culture

Bioreactor
P3202
The FiberCell Systems Duet more info
Cartridges
Catalog No.
Size
Surface Area
Fiber Type
Packing Density
ECS Vol
MWCO 50%
Max. Cell#
C2003
Large
1.2 m2
low flux PS
50%
70 mL
5 kd
5 x 1010
more info
C2008
Medium
3000 cm2
low flux PS
50%
15 mL
5 kd
109
more info
C2011
Medium
3000 cm2
high flux PS
50%
15 mL
20 kd
109
more info
C2018
Large
1.2 m2
high flux PS
50%
70 mL
20 kd
5 x 1010
more info
Reservoir Caps
A1005
33 mm Reservoir Cap more info
A1006
38 mm Reservoir Cap more info
Serum Replacement
CDM-HD more info