Exosomes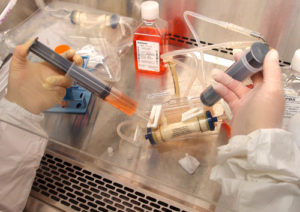 Hollow fiber bioreactors are the ideal method for the production of exosomes from stem cells and other cell types such as 293 cells. Exosomes are retained to high concentration in the extra capillary space as they will not cross the fiber. If needed, serum can be used in the circulating medium and the endogenous exosomes in serum will not cross the fiber so no serum starvation is used. Cell debris is significantly reduced for simplified purification. Stem cells do not differentiate over time as no cell splitting is required, and exosomes can be harvested over long periods of time with no change in activity.
Comparison of Exosomes Produced in T-225 flasks vs. FiberCell Systems C2011 20 mL 20 kd MWCO PS Cartridge
Flasks were split 1:5 in DMEM/10% FBS until a total of 130 T225 flasks were obtained. DMEM/10% FBs was replaced with DMEM alone and exosomes collected after 2 days. 5X108 adipose derived mesenchymal stem cells were seeded into the hollow fiber bioreactor and harvests initiated after one week of culture. Medium used in the hollow fiber bioreactors was DMEM/10% FBS in the circulating medium, DMEM without serum in the ECS. Contaminating exosomes in serum cannot cross the fiber allowing it's use in culture. Total exosomes collected from two HFBR under these conditions equaled that from 3600 T225 flasks in a total volume of 360 mL.
Collection Volume (mL)
Total Exosome Protein (mg)
Total Exosome Particles (1010)
HFBR
Cartridge #1
(7 weeks, collection every week)
240
11.82
95.78
Cartridge #2
(4 weeks , 6 collections)
120
14.45
326.9
Flasks
130 T225
4000
0.9
1.6
Total medium consumed:  HFB: 7 L per run.   Flasks:  24 L